Literacy is a part of my being, from the time I wrote stories displayed in my elementary school library - to being a nerd who actually enjoyed diagraming sentences - to being a classroom teacher and later reading intervention specialist spanning over two decades in education. My favorite part of teaching was creating my own lessons, and the thrill of seeing my students not only understand the material - but experience joy in the process - literally gives me goosebumps! Educators are overwhelmed with complicated systems and dismayed with dull lessons that don't work. I'm thrilled to share my simple, fun, and effective tools that teachers and students desperately need these days.
I've combined my love of language arts with logic and creativity to teach important sight words based on a dynamic and innovative phonics system. Educators know the value of teaching similar words together - for example, once a child knows the words "hot, not, & pot," it's much easier to learn the more difficult word "plot." I applied that same logic to learning sight words. Once a child knows the word "the," it's much easier to learn the word "these." From there, it's just a hop, skip, and a jump to learn the word "those" - and so on! Writing these words in colorful marker on note cards displayed in groups on my classroom wall began the evolution of the First Words Fast revolution.
I'm also passionate about leveling the playing field for children who have limited resources for succeeding in life, and I'm driven to make sure every child not only has the opportunity to become literate – but to experience the joy inherent in reading.
Thank you for all
you
do to improve the lives of children! Jayne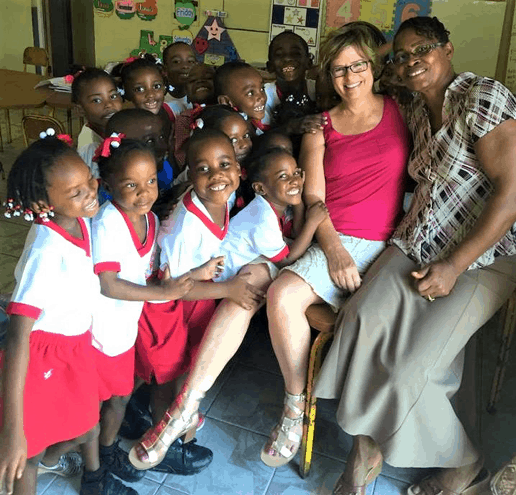 Jayne shared her first prototype of First Words Fast with an educator friend in Jamaica where a Peace Corps literacy volunteer happened to see the program, and then word started to spread.